Teen ready to resume life after brain surgery
More than just a little headache
By Xochitl Peña, The Desert Sun


Devan Perez is looking forward to being a regular teen again.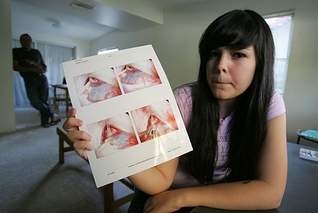 Struck with debilitating headaches about seven months ago that sent her home early from school almost every day, the 17-year-old missed out on key moments that define youth.

There were no sleepovers, no movies, no "hanging out" with friends, no prom.
To deal with the constant pain, she said she was swallowing Tylenol like they were Tic Tacs.

"Noise was horrible. I was sensitive to noise and light. It was hard to read and focus on school," said Perez.

But now — a month after undergoing an uncommon type of brain surgery that uses fiber optic technology — the lemon-sized cyst that was pushing against her cerebellum and causing the pain is gone.

Perez is a brand-new girl.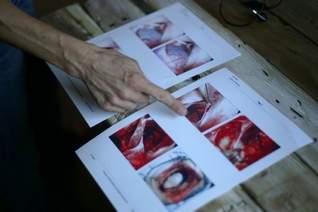 "I'm excited to go back to school and focus and do everything everyone else is doing," said the La Quinta High School student.

The surgery was done at the Brotman Medical Center in Culver City by Dr. Hrayr K. Shahinian, a skull base surgeon and director of the Skull Base Institute in Los Angeles.

According to Shahinian, his institute is the only facility using the "endoscopic supracerebellar" approach in lieu of a traditional craniotomy that oftentimes requires an ear to ear incision and removal of the skull.

This less-invasive approach entails making an incision above the cerebellum just big enough to insert an endoscope and custom-made micro instruments to remove the cyst or tumor.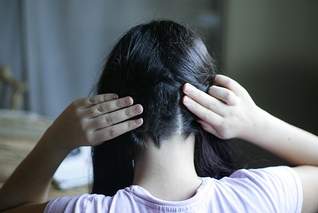 "It's a real-time high-definition camera," said Shahinian. "We are really the only ones doing this procedure."

The small patch of hair shaved to accommodate the 1-inch incision at the back of Perez' head is already growing out.

With her upbeat demeanor and long, shiny hair, it's hard to tell that weeks ago she was undergoing such an intimidating procedure.

"Recovery was extremely quick. She was discharged the next day," said her mother, Laura Gannotti.

Had Perez gone the traditional route of a craniotomy, she might have had to shed her dark hair and would have recovered less swiftly.

She's had long hair most of her life, and losing it would have been hard.

"I like my hair a lot. People know me by my hair," she said.

Though recovery was quick, it was still hard on her slender frame. She had to sleep at a 45-degree angle for three weeks and is slowly gaining her strength back every day. Her headaches have gradually dissipated since her July 16 operation.

"At this point she's doing really well. The headaches are one every three days," said Gannotti.

They are now less intense and expected to continue to decrease, she said.

"People are surprised that we have been doing this for 14 years," Shahinian said.

About 3,500 of these less invasive surgeries have been done at his institute — more than 80 percent of them are a result of patients finding him via the Internet.

That's how Perez' family came across him. Her aunt, Mary Gannotti, an associate professor at the University of Hartford who's on the scientific staff at the Shriner's Hospital for Children, researched the various methods for removing an arachnoid cyst and found out about Shahinian's methods from Pub Med, an electronic medical database.

"We did our homework," she said.

While the procedure used on Perez to remove her cyst is uncommon, endoscopes are being used by surgeons all the time to conduct other types of brain and spine surgeries, said Dr. Gail Rosseau, a neurosurgeon and spokeswoman for the American Association of Neurological Surgeons.

"There are many people using minimally invasive techniques," she said.

Rosseau hasn't had to fully shave a patient's head since 1992 and it's been years since she's made an ear to ear incision.

"In every case we do try to make the smallest yet safest incision. Sometimes it is an ear-to-ear incision. Often it's very small, especially since the advent of the image guidance system a sterile probe that allows you to see inside the patient's brain," said Rosseau referring to neurosurgeons.

Shahinian is not a neurosurgeon. His specialties are in plastic/ reconstructive, craniofacial and skull-based surgery.

Perez and her parents are pleased with the results and glad they decided to go to Shahinian.

"I'm just extremely glad it's gone and I'm better now," Perez said.