NASA, neurology combine to create new surgical tools
By Adam PoulissePasadena Star-News

From the depths of the human brain to the depths of space, new technology is giving 3-D imaging an eye-popping edge in both the science and health-care fields.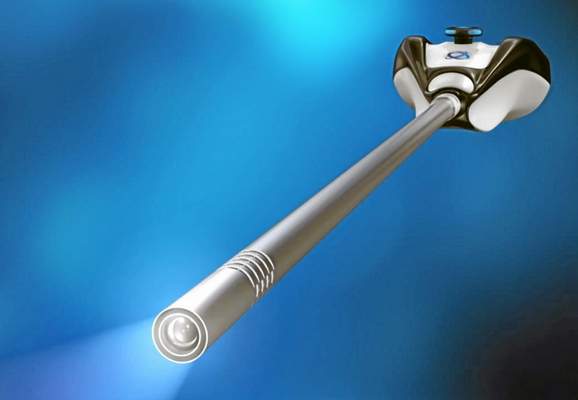 Hrayr Shahinian, medical director of the Skull Base Institute in Los Angeles, and scientists at the Jet Propulsion Laboratory have debuted the Multi Angle Rear Viewing Endoscopic Tool, the world's first high-definition 3-D endoscope that grants surgeons better depth and access to hidden corners of the brain and could also provide NASA with a better eye when exploring space. It is undergoing approval by the FDA and could be cleared for hospitals across the country to use later this year. It has been ranked as one of the top 10 innovations released by NASA this year, according to a news release.

"It's brain surgeons collaborating with rocket scientists," Shahinian said. "It brings the ability to see depth and distinguish between tumors and tissue. It gives you both precision and safety."

MARVEL technology uses a single camera rather than the typical two, but two color filter apertures to create the revolutionary 3-D imaging. The object is illuminated when viewed with select wavelengths that can match the transmission colors of the complementary filters. The new endoscope is 4 mm in diameter and contains high resolution stereo imaging capability equipped to sweep side-to-side for panoramic views.

"This is important because of limited space available for such surgeries where, in addition to an endoscope, there need to be enough room to introduce other surgical tools," Harish Manohara, JPL Nano and Micro Systems principal technical staff and group supervisor, said in an email.

Manohara said the endoscopic tool, once modified, could be attached to future space missions and function as a tool to get close-up images of the surfaces of other planets.

"It has to be readied to survive two different types of harsh operating environments," Manohara said. "This requires careful selection of materials, components and integration methodologies that are then qualified using two different processes."

David Offitzer - a commercial pilot, roofing contractor, motorcyclist and musician from San Pedro - went under the knife in August 2013 to remove an acoustic neuroma, which could have left Offitzer deaf and unable to walk properly.

Though he was back to his office within two weeks without the NASA technology, but adding it to the already less-evasive endoscopic technology "would only be helpful," Offitzer said.

"Dr. Shahinian is a pioneer," Offitzer said. "What it takes to develop this technology is amazing. It could only be an advancement of what endoscopy already does. It would be a fantastic jump forward."